Switch up your traditional pizza night with these fun, easy and delicious pizza alternatives including healthy options, savory switches and dessert pizzas!
Guess what!!
Chicken butt. (Okay, sooo sorry, I couldn't resist!)
The real news is that there is a National Pizza Party Day and it's coming up on May 15th! 🍕🎉🍕
Yes, you heard right: there is an entire day to celebrate eating pizza with your favorite people! As if we needed an excuse! But at least now we have one so that we can eat our pizza proudly while declaring that we are celebrating an auspicious national holiday!
Already had pizza this week? Doesn't matter because it's a holiday, folks! No shame in our pizza eating game!
But, perhaps you may want to go beyond the ordinary pizza. Maybe you want to mix it up a bit. You might be saying to yourself: "Sure, pizza is lovely. But what else can I turn into that delicious pizza goodness that I love and crave??"
Well, look no further! Because we have assembled for you: every pizza alternative under the sun! You want dessert pizzas? We got 'em! Need a healthier pizza alternative? Covered! Or maybe you just want that cheesy goodness packaged a little different? Yup, we got those too! So fire up the oven and queue up Netflix! It's time to rock pizza night with these fun twists on traditional pizza!
25 Fun Pizza Alternatives for Your Next Pizza Night!
Main Dish Pizza Alternatives
Barbecue Bubble Pizza
Here's a fun pizza twist for the BBQ lover! Bonus: this Barbecue Bubble Pizza from B4 and Afters is also super easy to whip together – making it perfect for a busy weeknight!
Taco Pizza
You had me at "taco"… and "pizza"! Be still my heart! All your favorite foods come together in one place when you make this Taco Pizza from Son Shine Kitchen! Now pizza night and Taco Tuesday can collide in a beautiful union!
Shrimp & Grits Pizza
Southern comfort food in the form of pizza! This Cast Iron Shrimp & Grits Pizza from The Good Hearted Woman even has a polenta crust (which happens to be gluten free!). Hello, Mardi Gras pizza idea!
Crescent Roll Breakfast Pizza
Yes, you can have pizza for breakfast with this Crescent Roll Breakfast Pizza from Dancing Through the Rain. Did you say pizza brunch party? Yes, thank you!
French Bread Taco Pizza
Wait, hold up! French bread + tacos + pizza? Get in my belly! This French Bread Taco Pizza with Chipotle Ranch from Baked, Broiled & Basted looks like a delicious way to mix up your pizza night!
Pepperoni Pizza Stuffed Peppers
Change up your next pizza night with these Pepperoni Pizza Stuffed Peppers from Peace, Love & Low Carb! They look like the perfect way to satisfy that pizza craving while mixing things up a bit!
Pizza Macaroni & Cheese
Mac 'n cheese + pizza! Two of the world's greatest comfort foods are combined in this Pizza Macaroni & Cheese from Kudos Kitchen by Renee. It's perfect for a night in spent on the couch with Netflix!
Appetizer & Snack Pizza Alternatives
Homemade Pizza Rolls
Pizza rolls from the frozen food section are so bleh! Get your pizza roll game on point with these delicious baked phyllo dough Pizza Rolls from Chisel & Fork!
Gluten Free Copy Cat Bagel Bites
Got allergies but still want to enjoy those cravable Bagel Bite pizzas? Upgrade to these Gluten Free Copy Cat Bagel Bites from Strength & Sunshine! You can even make them vegan by using vegan cheese!
Buffalo Chicken Zucchini Pizza Bites
Buffalo chicken fans rejoice! These Buffalo Chicken Zucchini Pizza Bites from Food Meanderings are the perfect snackable treat! Bonus: they are as low carb as they are delish!
Keto Pizza Chips
Crunchy chips with all the yum-yum flavors of pizza! And, these Keto Pizza Chips from Peace, Love & Low Carb are actually made with baked cheese – so they are gluten free and low carb!
Pizza Fries
Yaasss. These Air Fryer Pizza Fries from Recipe This combine all of our snacking needs! Fries + Pizza. I mean, how have I not already thought of this?!
Pepperoni Pizza Dip with Cream Cheese
This Pepperoni Pizza Dip from Delicious on a Dime is screaming my name! You could dip french bread slices, pita wedges or even tortilla chips in it! Or, hey, go crazy and dip a slice of cheese pizza in it!
Healthier Pizza Alternatives
Easy Carrot-Shaped Veggie Pizza Bars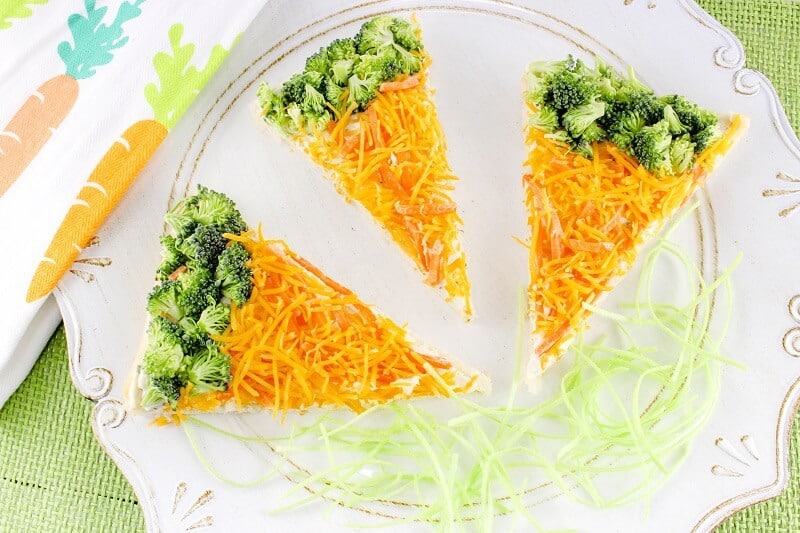 How adorable are these Carrot-Shaped Veggie Pizza Bars from Crayons & Cravings?! These would make an awesome snack, appetizer or healthy meal! With cream cheese, cheddar, ranch and veggies, you really can't go wrong!
Easy Pizza Chicken
Craving pizza but going keto or low carb? Say hello to this Easy Pizza Chicken recipe from Snappy Gourmet! It gives you all the delicious flavors of pizza without the carby crust!
Veggie Pizza
I really feel like I could get on board with the yummy Veggie Pizza from Son Shine Kitchen! It's easy to whip together and you can add as many yummy veggies as you want! Perfect for pizza nights when you're trying to keep it healthy!
Vegan Pizza with Pesto & Heirloom Tomatoes
This Vegan Pizza with Pesto & Heirloom Tomatoes from Yummy Mummy Kitchen is packed with garden fresh ingredients! It would make a gorgeous addition to any summer meal! Best of all, you can skip the cheese and still get all the delish flavors!
Keto Pepperoni Pizza Pockets
Hot Pockets 🎵 A college dorm room staple. We all ate them, even though they really weren't good. Well, here's your chance to create a more delish and healthier version! These Keto Pepperoni Pizzas from Peace, Love and Low Carb are yummy, gluten free and low carb! Win-win-win!
Zucchini Pizza Casserole
Here's a savory meal with all the flavors of pizza and healthier ingredients! This Zucchini Pizza Casserole from Marathons & Motivation will fill you up without the carbs!
Dessert Pizza Alternatives
No-Bake Fruit Pizza with Graham Cracker Crust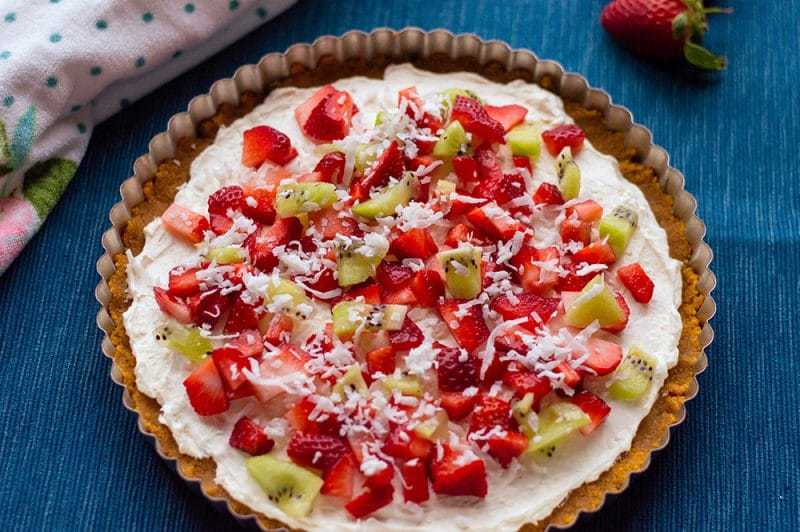 Healthy and delicious? No baking required? Ummm, yaaass, please! This No-Bake Fruit Pizza with Graham Cracker Crust from Crayons & Cravings is the perfect dessert for summertime BBQ's or pizza nights by the pool!
S'mores Cookie Pizza
Umm, okay, you don't have to ask me twice! This S'mores Cookie Pizza from Well If She Can Do It is the perfect guilty pleasure to finish off your pizza night!
Glazed Fruit Pizza
Yum yum yum! This Glazed Fruit Pizza from Homemade Hooplah kicks it up a notch with a beautiful and tasty glaze! It's a sure way to impress your pizza night comrades!
Carrot Cake Dessert Pizza
Here's a fun twist on the fruit pizzas! This Carrot Cake Dessert Pizza from Food Meanderings, with its cookie crust and chocolate cream cheese, might even convince carrot cake haters to give it a try!
Cinnamon Roll Pizza
Craving cinnamon rolls? This Cinnamon Roll Pizza from Platable Pastime is the perfect twist on pizza and cinnamon rolls! Plus, it's easier to make than traditional cinnamon rolls!
Chocolate Peanut Butter Dessert Pizza
If you know me, you know I love me some peanut butter! And I love chocolate. And pizza! So, basically, this Chocolate Peanut Butter Dessert Pizza from Y'all Come Eat is going to be my new dessert obsession!
How are you going to celebrate National Pizza Party Day? Tell us in the comments!
Don't forget it! Pin it!

Kaylee is a plant-loving, muck-boot wearing self-proclaimed "modern hippie" from Southwest Idaho. Her specialties include backyard farming, natural living, DIY-ing, and eating all the food… all the time!